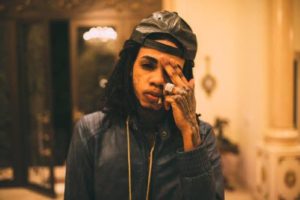 With 2017 fresh and ready to evolve it also seems dancehall is also at this point or is it. According to the young generation and even some of the old, the rapid rise of dancehall's latest Consecutive hit maker Alkaline has them saying yes he is the next big thing.It was a good year for the vendetta boss in 2016 much like predicted early in his career.
His debut album was a success and had the clubs vibrant once again…It almost felt like kartel placed alkaline there to take care of dancehall while he was away. Many would disagree and many may say Alkaline has grown into a style separate from Kartels. After All After All lol
Alkaline cant be denied respect where it is due no matter how he reached where he reached it takes talent to do so and he has proving all the doubters wrong in the statement "he just another kartel impersonator"
He is not just a kartel impersonator he is the best one out of them all and I always felt whoever could catch kartel style will be able to hold down dancehall over artist who have been in the dancehall league for years.
He was doing so well kartel decided to give him the head nod that mavado has all now yet to give to demarco and the same for Demarco with Masicka. Many were shocked to hear the lyrics "Kill him wit di lickle blind bwoyy" right in the middle of the biggest war song of the year coming From Vybz Kartel "Round Cornah" taking aim at the gully gawd.
Alkaline fed everyone's appetite for a Kartel Vs Alka dropping Ricochet. Ricochet was full of bunch up organize words added to ah his laid back swag already it didn't touch as hard as it was suppose to but did it have to? I think not the title alone with kartel diss in parenthesis was enough… not to forget to  mention the  subs in even gyal songs from the two.
Alkaline play the first round smart he played of kartel being locked up and in trouble for the gully gaza 2 war and dropped his diss knowing kartel would not be able to respond in clash timing. Kudos Alkaline pretty sure kartel bussed ah "aha" for that move. As for this year alka already finds himself at odds with a dancehall legend Beenie Man..Beenie Feels Alkaline takes his Jamaican home based fans for fools…claiming alka said he done with "he's done with the dutty people in j.a and that's why he doesn't perform. We all know Mr.Zagazow for his antics but does he have a point.
2 years has passed and alkaline has yet to make his return to a stage in yard. He denied the rumor by calling Beenieman Ah Big Pussy…So already this young talent is under attack and its not even feb. yet. Cant wait to see what Alkaline has plan for dancehall.